"Laugh as you cry" video
The long-awaited Frankensteinway video is now online. It was shot in High Wycombe during 2004 by students there and features myself, Mark and Jason generally acting like idiots and pretending to play our song "Laugh as you cry".
Directing, Editing and Production: James F. R. Wright
Script supervisor: Rupert Dale
New Album - Experimental Poultry!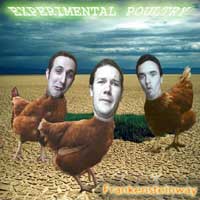 The new Frankensteinway album, "Experimental Poultry" has been released to great critical indifference.
Over two years in the making this immense musical achievement marks a significant step forward for the band. Said Mark Hamilton: "We may be chickens but we're certainly not afraid of taking risks, or drinking tea."
You can download free mp3 tracks from the album here, you lucky people:
(If clicking on the file tries to play in your browser then right click and select "Save As...")
Laugh As You Cry
The World Does Not Revolve Around You
Repetitive Soul
Please Don't Go
Institution
Under The Fridge
Unopened
Shafted
Deception
Subsistence Farming
This Year's Girls
Looking To The Seasons
Schroedinger's Song
My God